Dakota's oceanographer cousin, Shawn, has been missing her so he decides to come down and pay a surprise visit to meet his beloved family member.

If you are at least Level 12, you will see a pop-up inviting you to Ocean Fishing! You will need to force close the game to see the update, which means to clear it from your mobile device's memory or even reboot your device.




Start off the event by visiting the Fishing Lake behind Eagle Eye Eddie's Hangar. The Fishing Lake is where you earn Angler Points and display the leaderboard.




Ocean Fishing starts on Wednesday, January 17 - 28, 2018. It has 2 stages, giving you a total of 11 days to compete against other Farmers for the top leaderboard position and complete the Ocean Fishing quests.


The Fishing Lake let's you do 3 orders at a time. They can either be harvested (crops), or crafted. Each item requested on the board will have a different timer, allowing you to efficiently gather the needed Event items.
Tip: Check the Farm Stand often to see if your friends are selling what you need.
The second tab will show you the leaderboard that you are in. Not everyone you know will be in the same leaderboard. The leaderboard tab will tell you which prize category you are currently in (Gold, Silver, or Bronze). You can also see how you rank among your friends. 
Mystery Bag: Picnic Baskets
These Picnic Baskets are filled each time you earn Angler Points. Earn Additional rewards each time a Picnic Basket is filled!
Boosts: Golden and Silver Fish Hooks
You can boost the amount of Angler points by 50% using coins, or by 100% with keys. There will be a timer once a boost is activated and a short cool-down period on when you can buy another boost. Boosts last for an hour, and you can only select one boost at a time (prices subject to change based on level).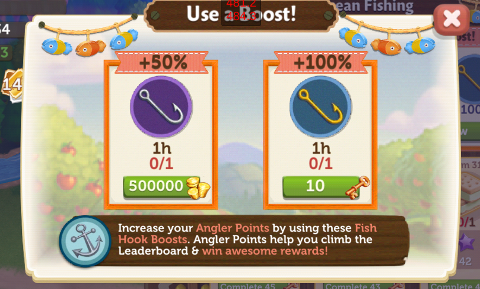 Temporary Place of Interest: Fishing Jetty
Across from the Fishing Lake is the the Fishing Jetty. You can send up to 4 Farm Hands to get event items, such as Sweet Lime, etc.

New items and where to get them
Sweet Lime

 - Fishing Jetty, Grandma's Glade, Old Mill, Prized Chicken
Carp - Fishing Jetty, Grandma's Glade, Pappy's Pond, Cove
Ash Wood

 - Fishing Jetty, Grandma's Glade, Cove, Merryweather Mine, Prized Horse, Goat
Tip
: Crafted items that need these ingredients are worth more Angler Points! Make sure that you have plenty of these items to help you move up on the Leaderboard faster.

Rewards
Here is the list of rewards that you can get from Ocean Fishing
2 Gold Stamps

2 Padlocks

10 Keys

1 Eggstatic Pin
1 Silver Stamp

1 Padlock

5 Golden Gloves
2 Gold Stamps

2 Padlocks

10 Keys

1 All Mine Pin
1 Silver Stamp

1 Padlock

5 Golden Gloves
Note
: You can only earn one of the rewards, not three! You will only be eligible for Rover Dover if you've won Rover from Stage 1. Your rank on the last day of the event determines the reward you receive.


Temporary Farm Hands: Shawn and Piper
You can purchase Dakota's oceanographer cousin, Shawn, and/or Piper during Ocean Fishing. They can help you find the needed rare event items, and 

will leave your farm once the event ends

.